While he is now an MHS Alumni, we would like to finally recognize Anthony Hill for receiving the Freeman Henderson Award this past year. The plaque finally came in this week, but we didn't need it to know Anthony is one of a kind. Anthony is currently working full time and attending the CCCUA Welding program. We are proud to have Anthony representing MHS! #GoRattlers #ClassOf2020 #MHSAlumni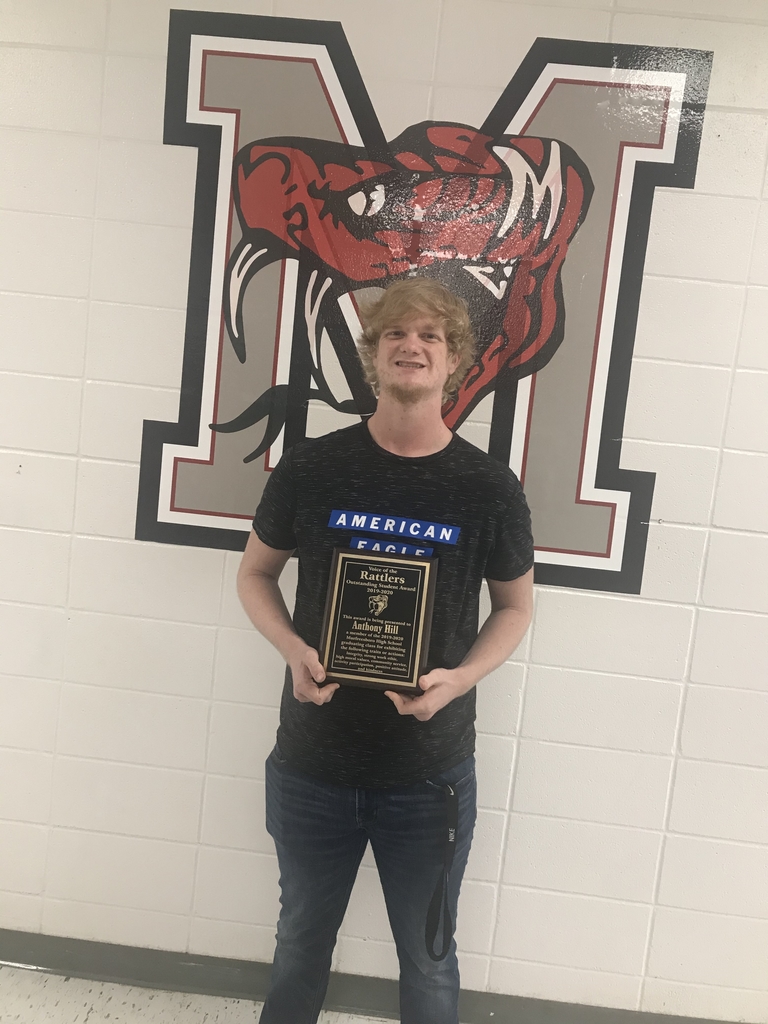 Please follow our home game guidelines for COVID safety. #GoRattlers

We are excited to announce that the Arkansas Department of Education has approved a waiver for all students PK-12th grade to eat free at schools through the month of December. All students will get to eat breakfast and lunch at no charge!! Virtual learners can also pick up meals if they want to take advantage of this opportunity. We serve breakfast each day from 7:45-8:15am and lunch from 10:30am-1:00pm. We ask that you call 870-285-2189 ext 408 or email
Sandra.vancamp@rattlers.org
to specify which campus you will be picking up from and what days. It is imperative that parents still submit the free/reduced meal applications to the school because these are used for other state and federal funding opportunities that support our students. These applications will be used for eligibility in the spring semester also. Now families have one less thing to worry about as they adjust to the evolving in-school and remote learning scenarios. We hope this opportunity will help all of our families in these unprecedented times!

MHS Home Game Information - Thank you for your support! #GoRattlers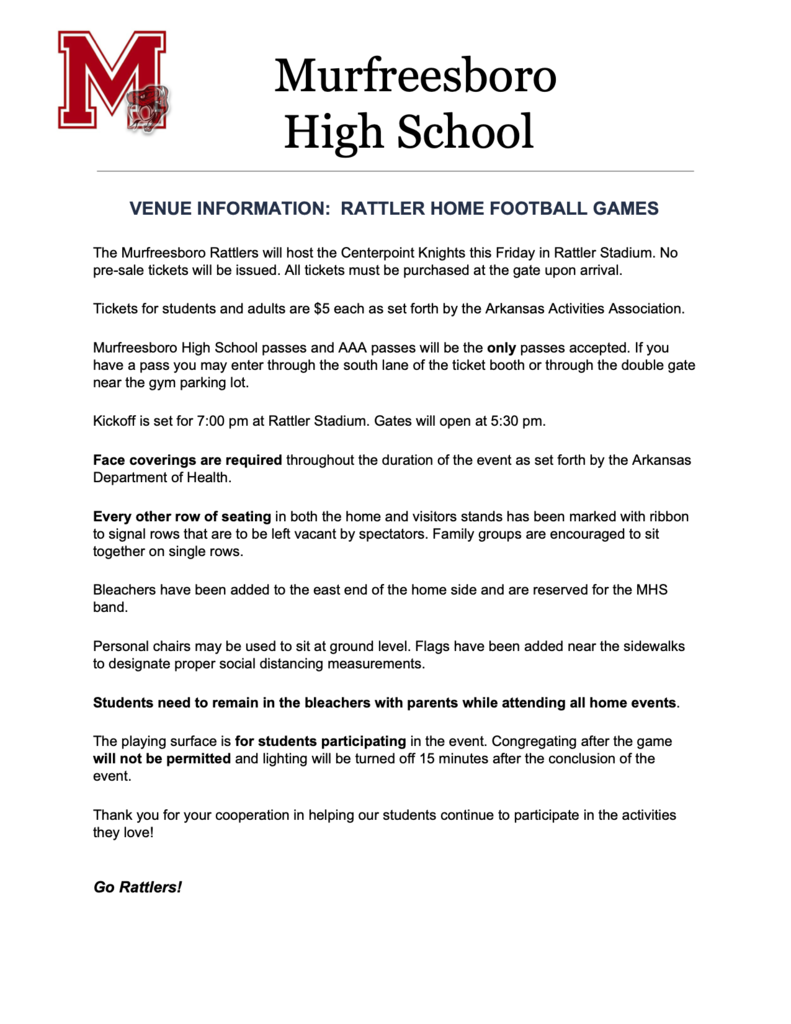 Senior Recognition will begin at 6:30 on Friday, Sept. 4. We need parents at the field no later than 6:15. Each student may have only 4 guests on the field. We ask that gifts be given before or after the recognition in order to allow for proper social distancing and to save time, because we have 26 seniors to recognize this year. Thanks for your support!

Reminder: Please follow all AAA guidelines for social distancing, the wearing of masks, and seating while attending school events. Thank you for supporting our students. #GoRattlers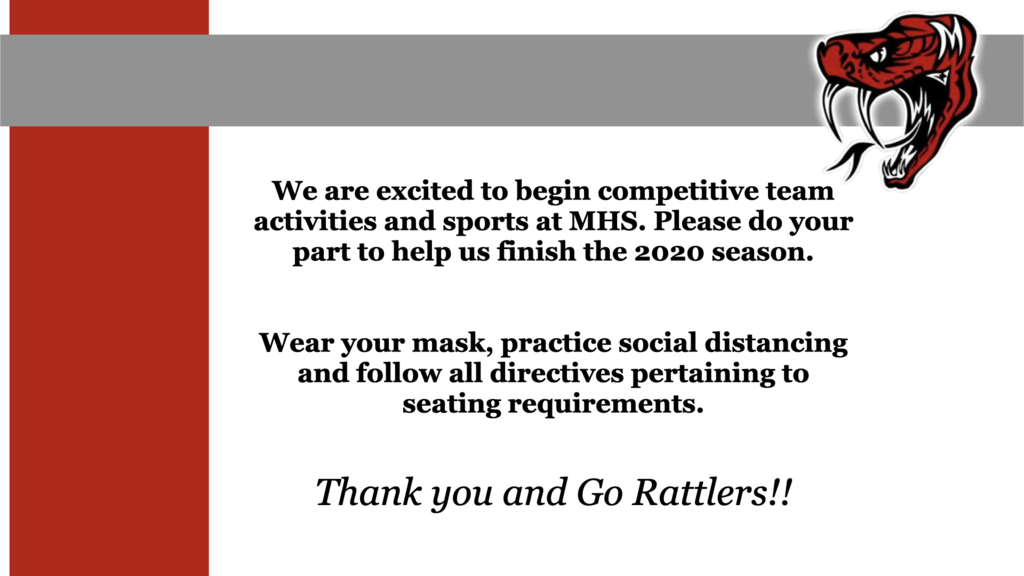 School will resume on campus tomorrow, August 28. Also the game tomorrow night at Magnet Cove will be live-streamed for the people that can't make the trip.
http://www.youtube.com/c/pprdsports
#GoRattlers

Don't forget that tomorrow Friday, August 28th is the last day to order Rattler Football shirts for the 2020 season. Orders are due by NOON!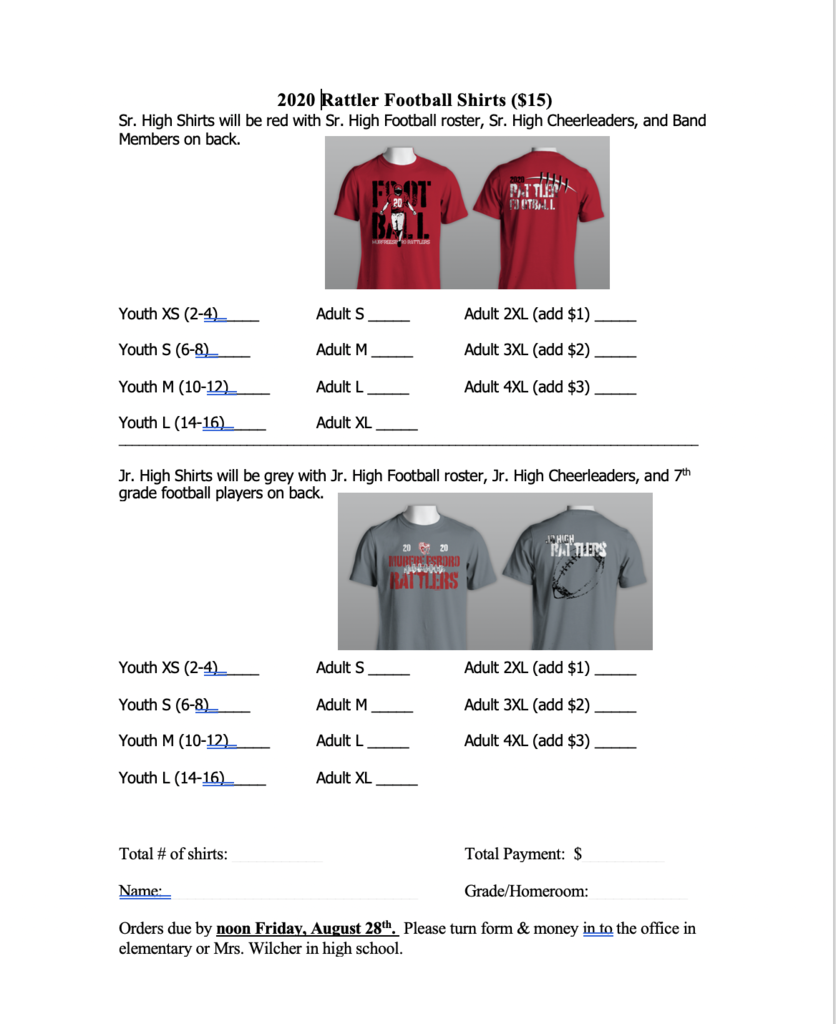 Follow all AAA posted guidelines for social distancing and wearing of masks. #GoRattlers

Senior Recognition will be next Friday (September 4th) at the football field. We will recognize all seniors participating in football, cheerleading, band, and tennis at this time. Due to social distancing, we ask that only the parents/guardians go to the field with their child.

Due to the threat of heavy rain, high winds and potential flash flooding from Hurricane Laura, SPCSD will be closed tomorrow Thursday, August 27. This will be a digital day. Students should check their iPads for assignments from their teachers. Most importantly everyone be safe!
The JR High Football game scheduled for tomorrow vs. Magnet Cove has been postponed. A make-up date is TBD. #GoRattlers #TDC

SPCSD Point of Contact for COVID-19 ........ The South Pike County District has established a Point of Contact (POC), as directed by the Arkansas Department of Health (ADH), to be notified when a student or staff member has tested positive for COVID-19 or a member of their household tests positive for COVID-19. The South Pike County School District POC is Tanya Wilcher. Mrs. Wilcher can be reached 7 days a week between the hours of 8:00 a.m. and 8:00 p.m. by email (
tanya.wilcher@rattlers.org
) or phone (870-285-2117). In an effort to prevent the spread of the COVID-19 virus within our staff and student body, we are asking all employees and all parents/guardians of students to notify our POC immediately if a student or staff member tests positive or has a member of their household that tests positive. Visitors to a school building should only report a positive test to the district POC if they were in a building 48 hours prior to receiving a positive COVID-19 test result. No one under quarantine or isolation order due to COVID-19 should visit a school building for any reason. We keep updated information on the Covid-19 Updates tab on our website, Rattlers.org.

Thank you to those who made this possible! #GoRattlers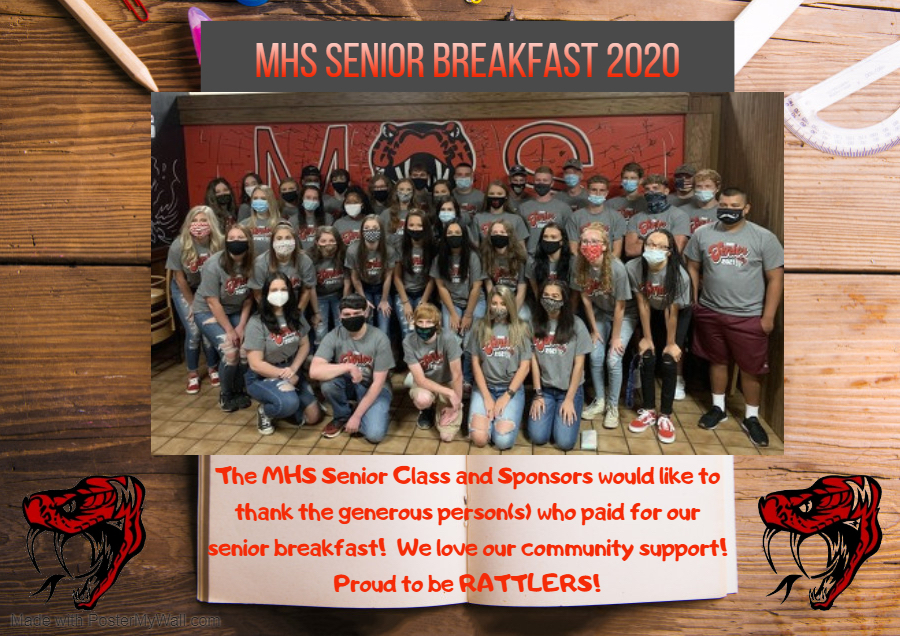 MHS wishes everyone a great start to the 20-21 school year! We look forward to seeing all of our students! #GoRattlers #TDC #DMGB
2020 Senior Football Schedule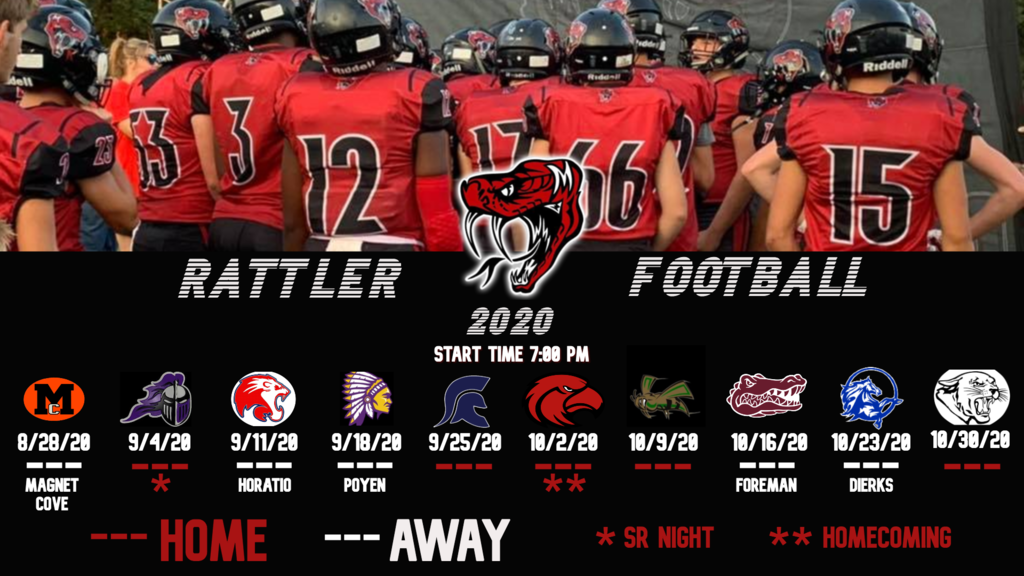 2020 Murfreesboro Rattler Football Procedures #GoRattlers #TDC #DMGB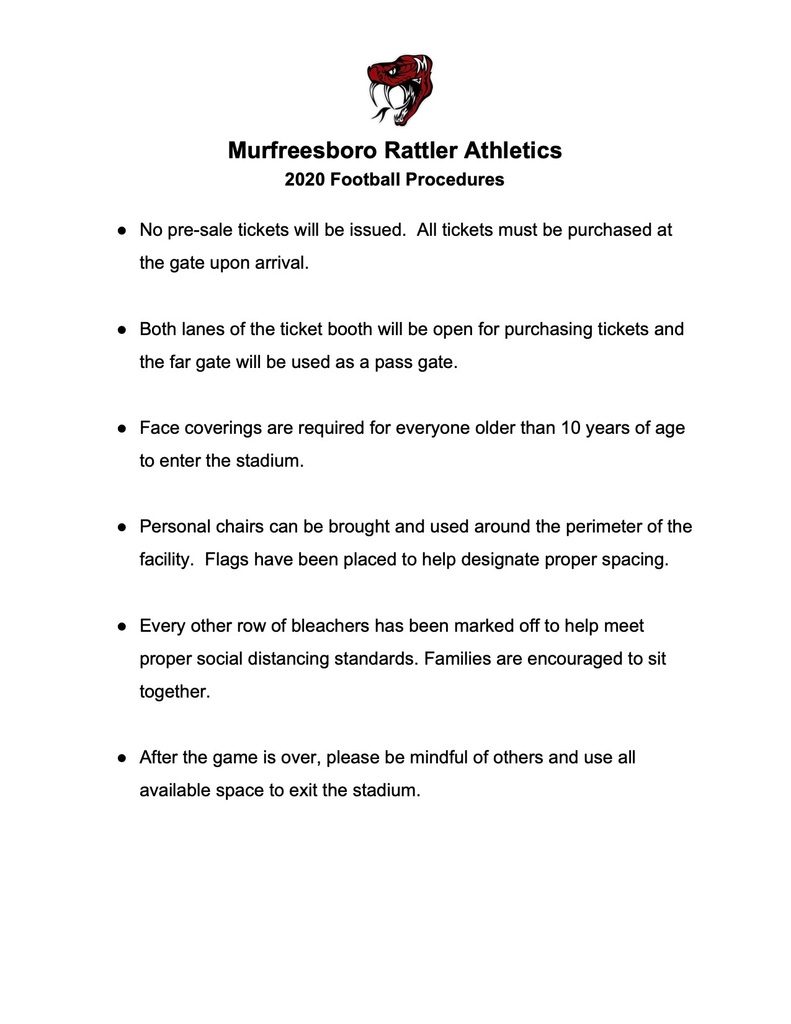 Please follow all posted AAA required guidelines for COVID 19 safety. #GoRattlers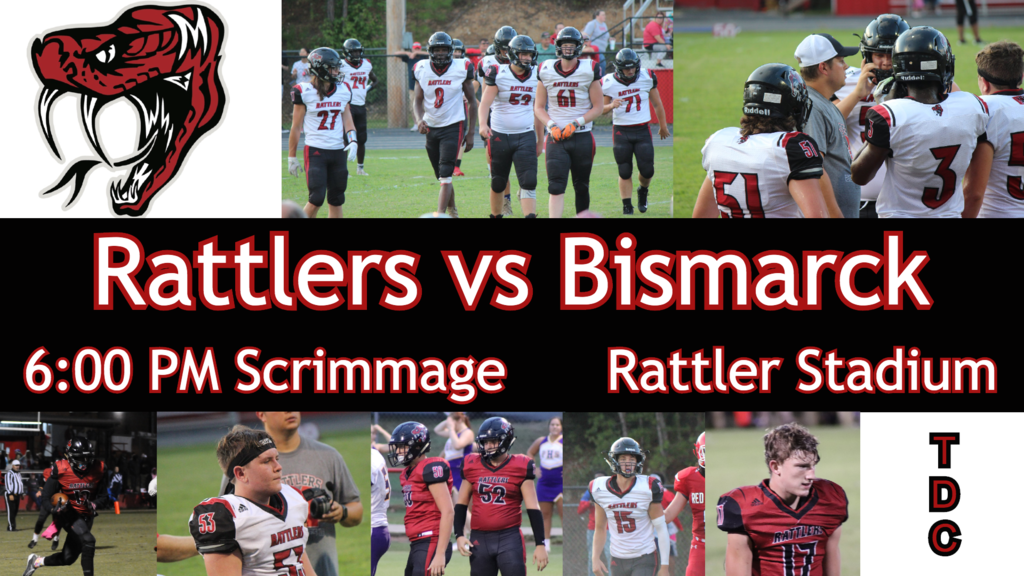 2020 Football Shirts are on sale. Orders are due by August 28 at NOON!!