Baseball and Softball District Tournament @ Horatio April 23-30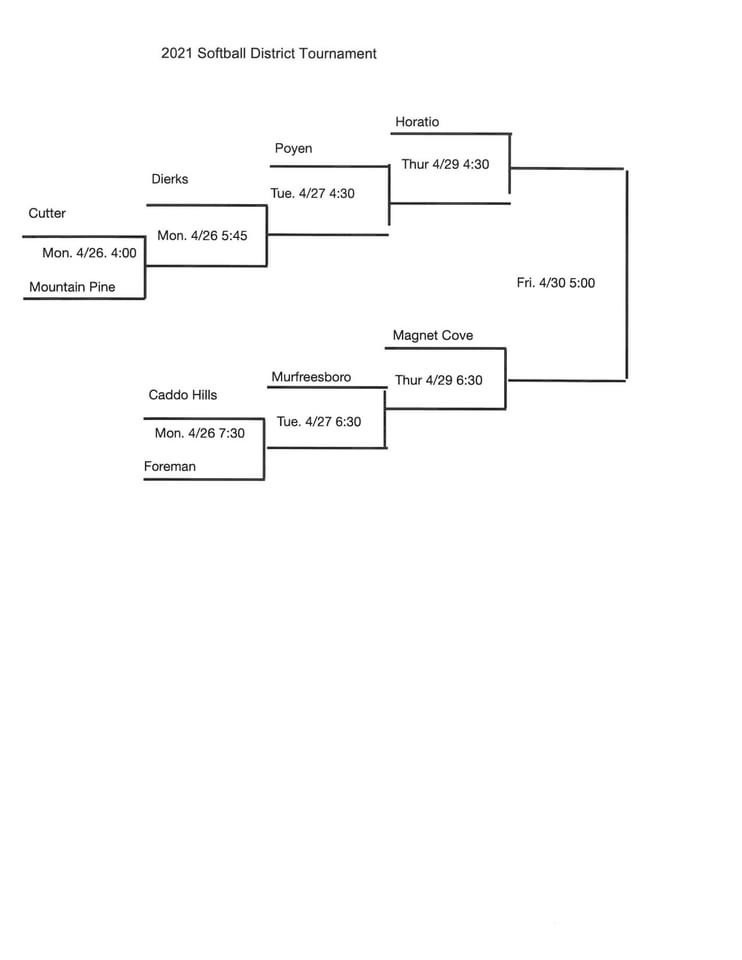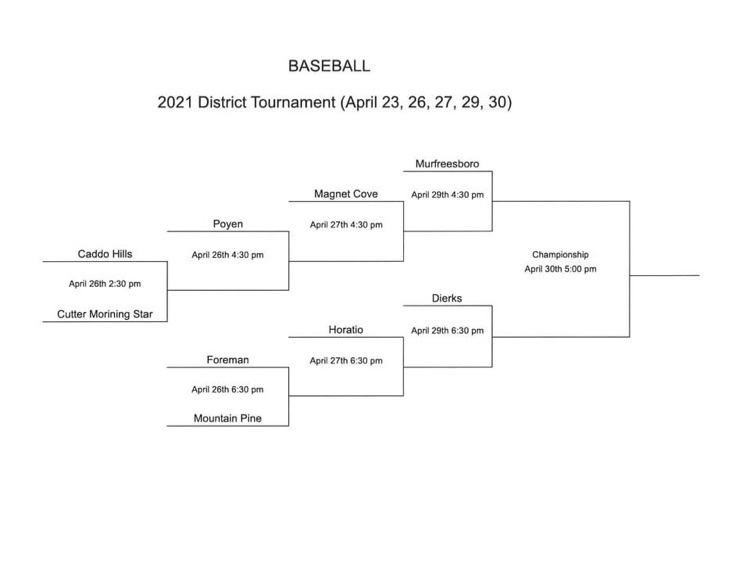 Schedule Change: Rattler baseball will take on Fountain Lake tomorrow at home. First pitch set for 4:30. #GoRattlers
Congratulations to Senior Emma Corbitt for being selected to play in the FCA All Star Showdown softball Game. The game will be Arkansas vs Texas teams held in Texarkana on June 16th. #GoRattlers #BXB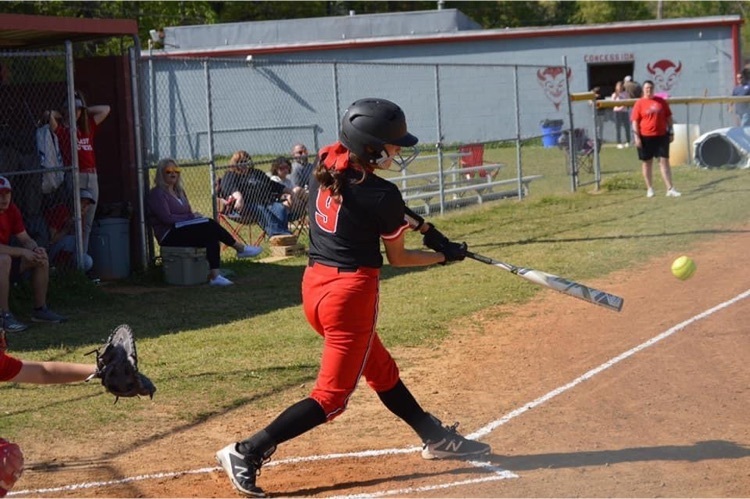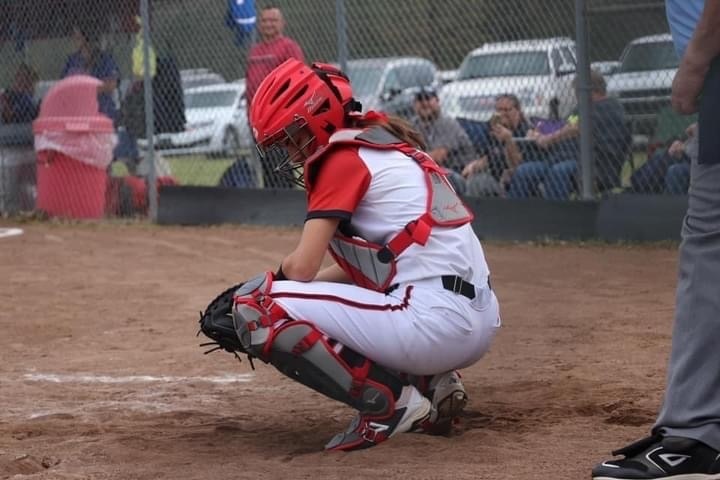 Please join MHS in wishing Mr. Danny Eckert a happy Administrative Assistant Day! Mr. Eckert always goes above and beyond for the students and staff. Thank you, Mr. Eckert, for being the real MVP! #AdministrativeAssistantDay #GoRattlers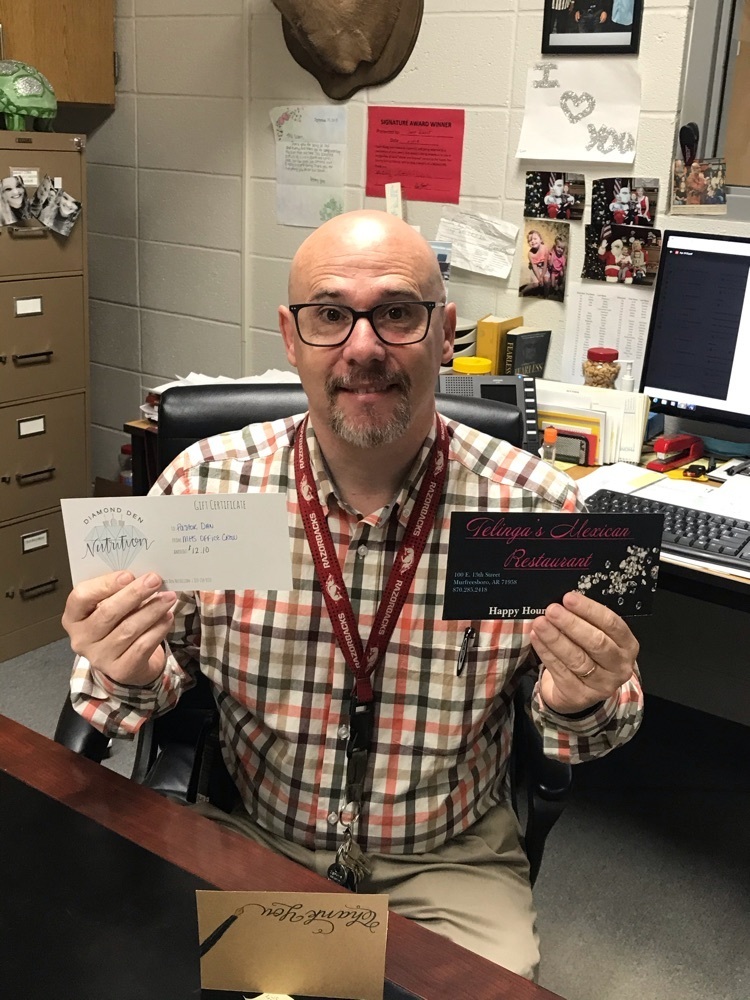 Due to no electricity on the Delight campus, Delight elementary will be flipped to a virtual day. Students will not come to campus but will receive their work from their teachers online. Students on the Murfreesboro campus, MES and MHS, will be attending school today in person.

School Choice Deadline is approaching.... Come Be A Rattler!!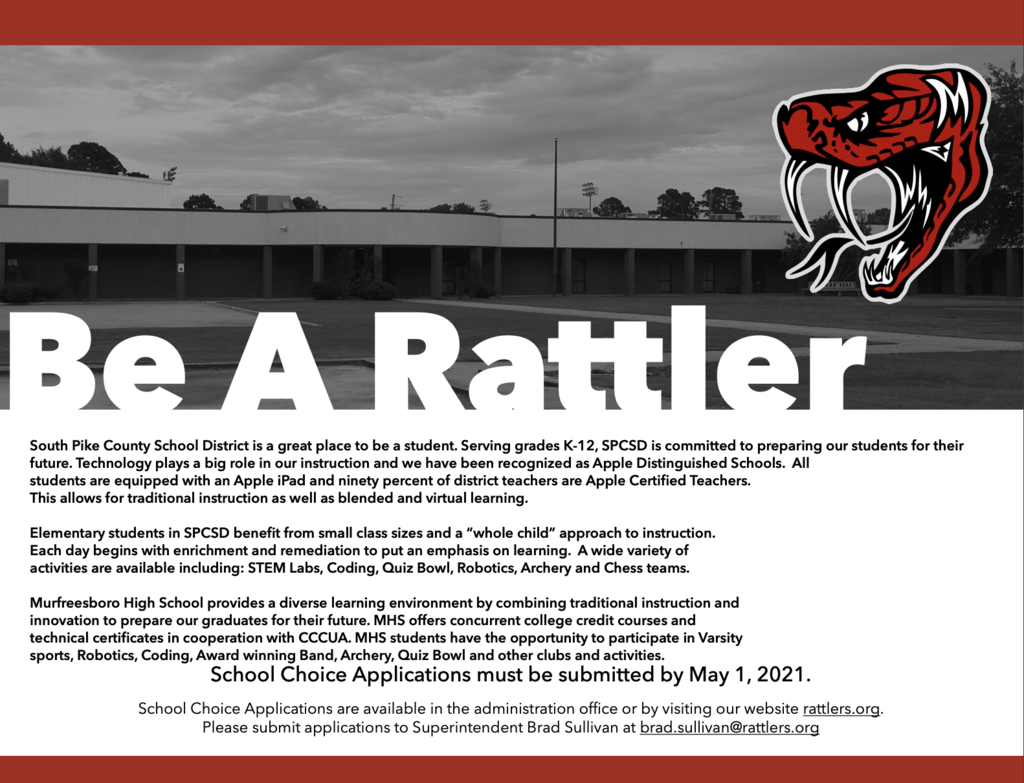 Rattler baseball defeats Mountain Pine yesterday 11-1. They will enter the district tournament as a 1 seed and undefeated conference champions. #GoRattlers
The home softball game vs Cossatot River tomorrow, April 20th, has been moved to a 5:00 pm start. #GoRattlers #BXB

MHS' local weather expert has been accepted to ULM! Noah plans to major in Atmospheric Science and we hope to one day hear his official weather forecast on the local news stations! Congratulations, Noah! #GoRattlers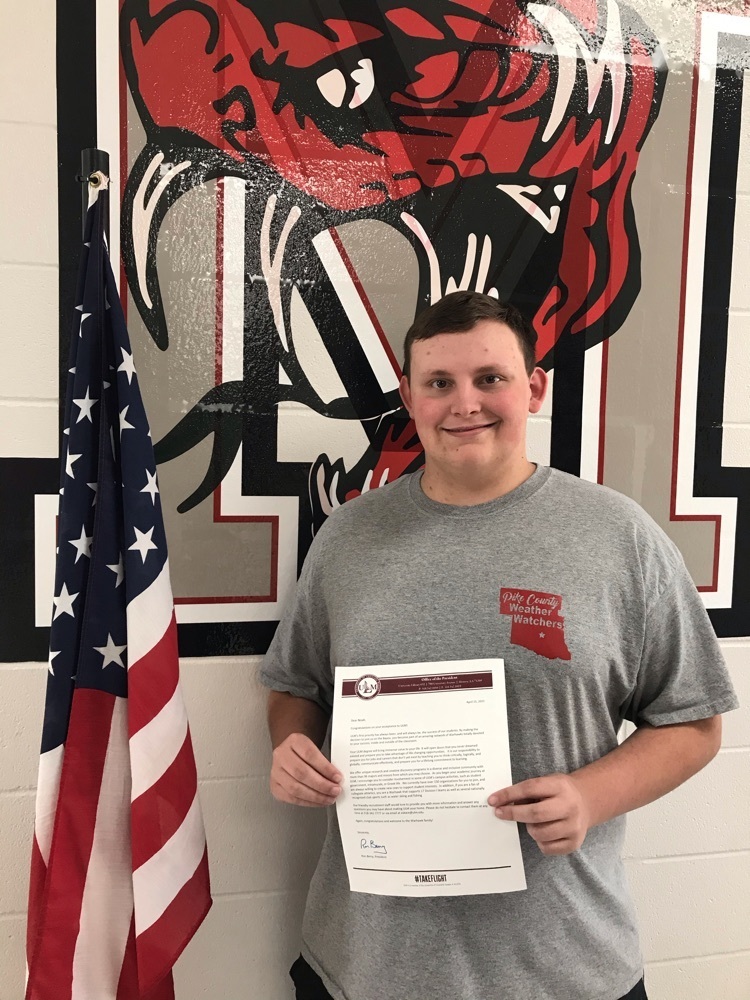 Congratulations to our Rattler Winterguard! These exceptional students brought home trophies and another National Champion Banner! #GoRattlers Solos: Peyton Keys - Youth 2nd Place Kailee Backus - Sr 17/18 Twirl 2nd Place Ensembles: Megan Rowton / Emily Alexis Reed - Sr 17/18 3rd Place Mackenzie Epperly / Kelsie Self - Sr 15/16 NATIONAL CHAMPS Big Group: Sr Flag NATIONAL CHAMPS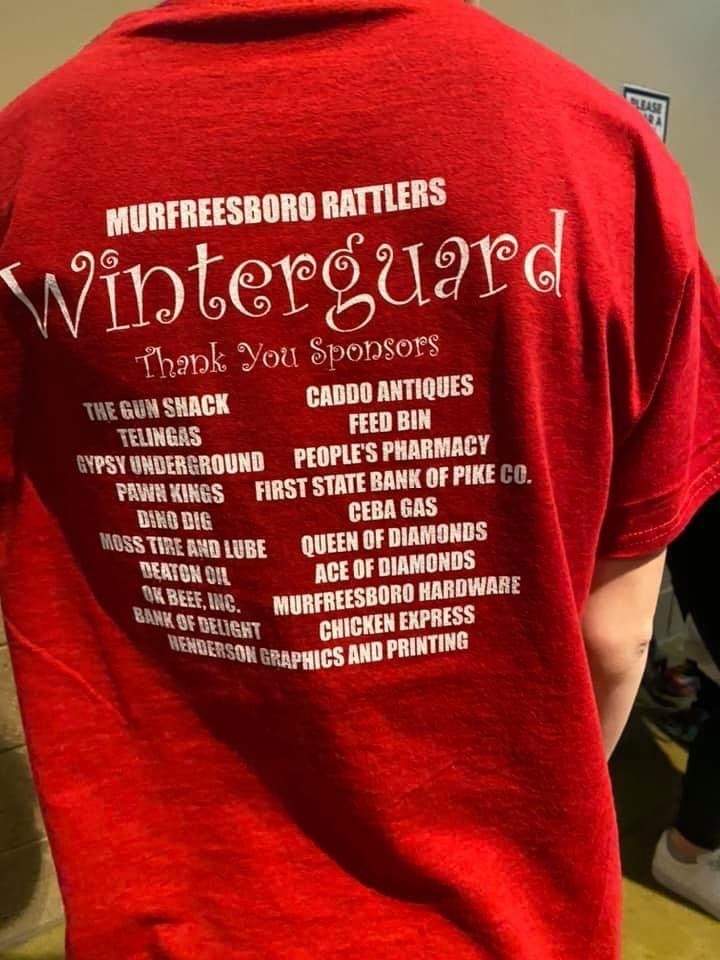 The baseball game vs. Cutter Morning Star has been cancelled today. #GoRattlers

Senior Recognition for softball/baseball will be Thursday, April 22nd at the fields....Baseball @ 4:10 and Softball @ 4:30.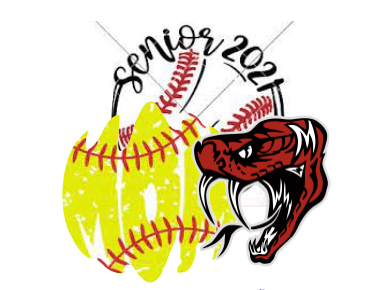 The Baseball/Softball games vs Prescott have been cancelled due to field conditions. #GoRattlers
Public Notice of RFQ for CM Professional Services The South Pike County School District is soliciting statements of qualifications from Construction Managers for various new construction and renovation projects districtwide. Those interested must be able to adequately demonstrate that they have the resources, experience and qualifications necessary to perform for the following tasks: planning, design, bidding, and construction administration. Responses must be received by 1:00 PM on April 21, 2021, at the address below: Superintendent Brad Sullivan South Pike County School District PO Box 339 Murfreesboro, AR 71958 801-285-2942 South Pike County School District reserves the right to reject any response. South Pike County School District is an Equal Opportunity/Affirmative Action Employer.

Yet another MHS Rattler receives the Hagan Scholarship! Congratulations, Malaya! You are a deserving student and we are so proud of you! #GoRattlers
Baseball/Softball Update: The baseball/softball games at Foreman have moved up to a 4:00 start due to the incoming weather. #GoRattlers

We would love for you to choose to be a Rattler!!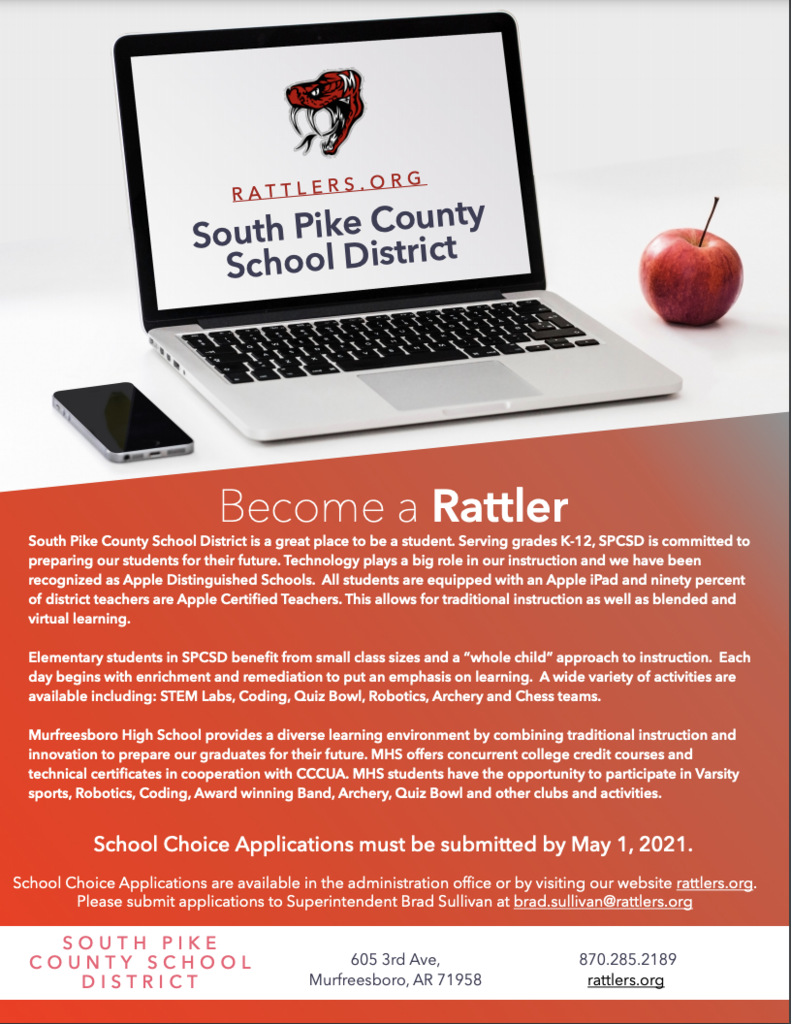 Hey Rattlers, make sure you order your yearbook! Time is running out and a yearbook is a great way to look back on the school year! #GoRattlers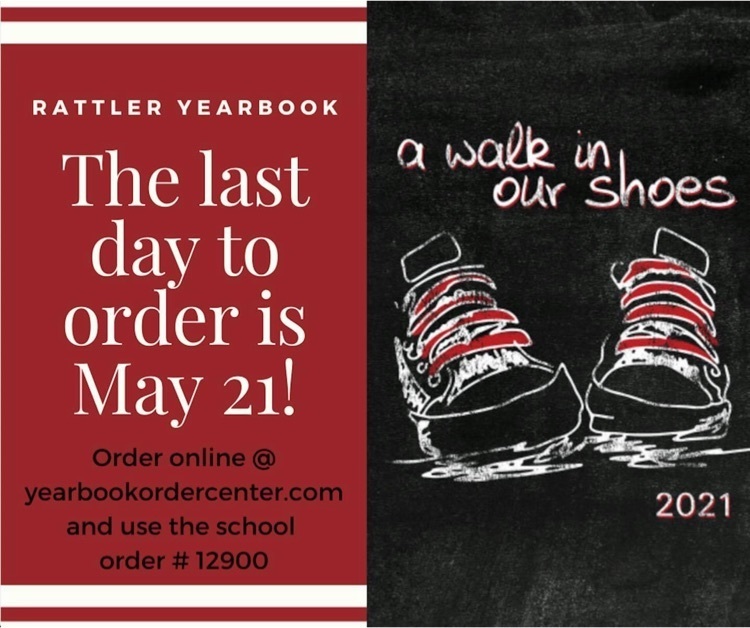 After two big wins vs Horatio on Friday the Rattlers (13-2 (3-0)) and Lady Rattlers (5-0 (3-0)) take on the Magnet Cove Panthers at home today. First pitch set for 4:30. #GoRattlers

Please read the attached announcement regarding wearing masks for the remainder of the year at South Pike County School District...