Sr high track meet tomorrow will be at Nashville Relays instead of Genoa Central.
Baseball has added a game against Mt. Ida tomorrow at Mt. Ida starting at 4:30. We will play varsity and JV.
The softball game scheduled for today vs Arkadelphia has been moved to tomorrow with the same start time.
The baseball games vs Trinity Christian scheduled for today have been moved to April 19th.
The baseball games vs. Springhill scheduled for today have been cancelled due to field conditions.
The softball game scheduled for today has been moved to next Tuesday due to weather. The Lady Rattlers will play Arkadelphia at home instead of Gurdon.

The softball game scheduled for Tuesday, March 27 is being rescheduled for Wednesday, March 28 at Murfreesboro against Arkadelphia at 4:30.
We will be unable to attend the JR High Track Meet at Prescott today due to unavoidable circumstances. We apologize for the inconvenience.

Tuesday, March 13 is the last day to order baseball/softball shirts. Orders are due by NOON to Tanya Wilcher.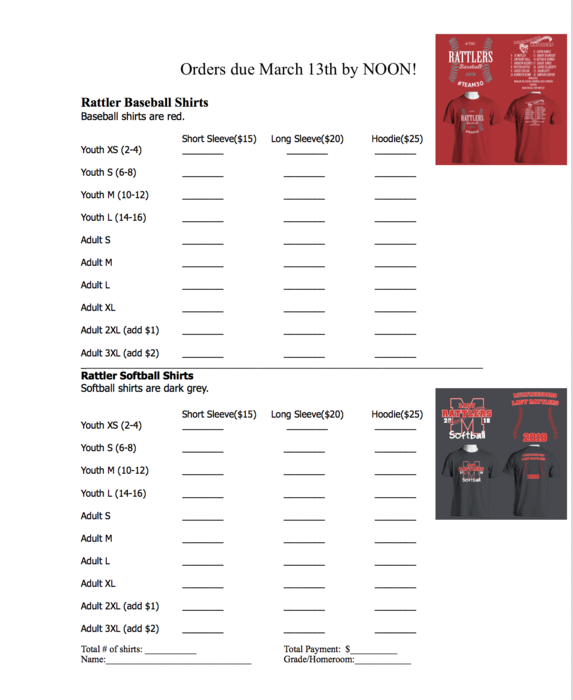 The softball game in Dierks scheduled for today will be moved to tomorrow with the same start time. The baseball game in Dierks will be played as scheduled.

Baseball/Softball shirt orders are due by NOON on Tuesday, March 13th.

The baseball game today against Parkers Chapel is rescheduled to tomorrow (Saturday, March 3) at 1:00 PM at home.

The Sr Lady Rattlers will be leaving at 8:30 AM tomorrow morning for the State Basketball tournament. We would like for everyone in the community to come out and support them as they get a police escort out of town! Let's Go Rattlers!!
Baseball vs. Springhill today has been postponed. A new date will be posted when available.
Correction... the fan bus will leave at 2:30 due to construction along the route.
A fan bus will leave at 3:00 PM on Wednesday for the girls' state basketball tournament in Judsonia. See Ms. Cole to sign up and for details. You must have parental permission to go.

Lady Rattlers played a hard game but fell short 44-51 to Poyen in the regional tournament today. We will play Wednesday, Feb 28 at 7:00 pm in the state tournament in Judsonia.

Lady Rattlers will play Poyen at 12 pm tomorrow in the 3rd/4th place seeding game. They will participate in the State Tournament in Judsonia on Wednesday, Feb 28th. Time TBA.
Lady Rattlers beat Camden Harmony Grove 35-30. Play Friday at 4:00. They are now qualified for the state tournament.

Parent/Teacher Conferences will be Thursday, February 15th 3:00-7:00. School will dismiss at 2:00 pm.