Reminder: All classes in the SPCSD will resume Monday, February 10. @NNewsLeader @swarkansasradio #GoRattlers

MHS beta at State Convention in Hot Springs. Brandon White places 2nd in Science. Austin Jackson and Jared Posey place 5th in technology. All three will advance to the @nationalbeta convention in June. @NNewsLeader @swarkansasradio #GoRattlers
Murfreesboro FBLA students competed today at the FBLA District IV Conference at UACCH. Congratulations to the following winners who have qualified for state competition. 1st place Emerging Business Issues - Abi Rucker, Abby Maroon, Reagan Terrell. 1st place Business Presentation - Denim Lee, Dusty Lee. 1st place Job Interview - Madison Humphry. 1st place Public Speaking - Kayli Oxner. 2nd place Talent Show - Kayli Oxner. 3rd place Health Care Administration - Madison A Campbell

Event Changes
Due to increasing numbers of cases of the flu, South Pike County Schools will be closed Wed, Feb 5 - Fri, Feb 7. We will use our approved AMI days and students will be responsible for their AMI work for days 1-3. All extra- curricular activities are cancelled and the buildings are closed to everyone until Monday, Feb 10th.

Freestyle artwork found by the MHS art room. Talent everywhere!

MHS says thank you to @counselorstone for the work she does for our students and staff. @ASCAtweets @NNewsLeader @swarkansasradio #schoolcounselors #NSCW2020
Reminder: The make up conference game vs Foreman at home will be tomorrow night. Games played will be junior boys, senior girls, senior boys beginning at 4:30 pm. Spread the word
Thank you to Mrs Dana Taylor and the Rattler Fan Club for feeding our kids pork tacos and all the trimmings today for lunch before our away conference game at Acorn. We appreciate your support and hard work for our kids 🏀

The Murfreesboro Junior Class is hosting a Chili/Soup fundraiser during the Horatio vs Murfreesboro home basketball game to raise money for prom. The fundraiser will be Tuesday, February 4, 4:30 pm - 7:30 pm and will be $6 per person. Please join us in supporting the Junior Class and the Rattlers!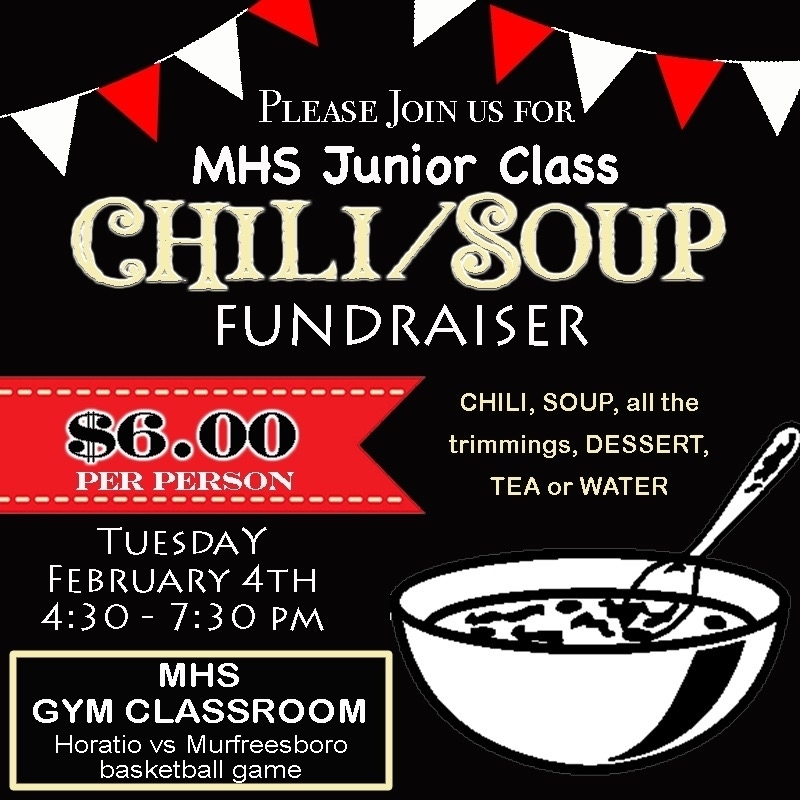 The MHS Career Fair is just around the corner! We are excited to educate students on career paths in Southwest Arkansas!

The 7th Grade Girl Powered Team - Lady Rattler Bots has made it to the state competition!!! #MHS #Girlscancode #GoRattlers #VEXRobotics @NNewsLeader @swarkansasradio @AsaHutchinson
The postponed game vs Foreman on January 10th will be made up on February 3rd. The start time will be 4:30 pm with Jr Boys, Sr Girls, and Sr Boys playing.
South Pike County School's number one priority is safety of our students. When bus routes started this morning all roads were clear and no precipitation was falling. However when the weather changed our buses had already picked up students. We felt it was in the best interest of the car riders/drivers to give them a two hour delay start to get here safely. We are sorry for any confusion this caused for our parents/students. If you did not get a notification from this message, please see the secretaries to update your information in our systems. We also post everything on our website and you can receive notifications on your phone directly if you have our SPCSD app downloaded.
South Pike County Schools will be on a two hour delay start time today. We will start school at 10:00 am January 22,2020. The bus routes have already made it safely to school and we will monitor the students until the 10 am start. Be safe today!
Thank you to our sponsors for your support this season
Regional and State sites for the spring semester have been announced by AAA. Softball and Baseball Regionals will be held at Horatio. State for both sports will be at Carlisle. Basketball regionals will be held at Fordyce. State will be at Quitman. Track and Field state will take place at England. Go Rattlers!
Attention! Attention! Be sure to purchase your 2019-2020 school memories at a discounted price! The offer expires January 31st!
We are excited for another new year of Kindergartners! This year we will have our Pre-Registration for the elementary's newest students Thursday, March 19th at 8:30. We look forward to seeing you there.