Mboro 52 Mt. Ida 24 Final. #GoRattlers #TDC #DMGB
Our fans are the best fans! Many thanks to the Rattler Fan Club for the awesome signs for our athletes' yards. #GoRattlers #HomeOfARattler #RattlerPride
Our very own Chesney Self has won the position of FCCLA District 5 Vice President of Parliamentary Law! This is a phenomenal achievement and we are so proud of our Rattler! @swarkansasradio @NNewsleader @arkansasfccla #GoRattlers
2020 Softball Schedule

@MCornish2 and crew preparing for @VEXRobotics competition here at MHS November 12th. #GoRattlers #VEXIQ #stem #robotics @swarkansasradio @NNewsLeader
Smoked Chicken Dinner fundraiser for Girl's basketball and softball. Please spread the word. Pre-sale tickets available from girl's basketball and softball players. You can come on game day during time listed and buy a plate as well.
Seniors/Parents, sign up for the MHS financial aid night, Oct. 21st, 5:00-7:00! We will be completing the FAFSA and applying for the Academic Challenge Scholarship. Call or email Mrs. Stone to get your spot reserved!
Our Jarah Cox was nominated for the DAR Good Citizen Award. Jarah is now eligible for a scholarship and will be recognized for being an outstanding person with exemplary qualities. @swarkansasradio @NNewsLeader #DaughtersOfTheAmericanRevolution #DARgoodcitizen
Archery registration for grades 4-12 will be Tuesday, October 1 @ 7:00 pm in MHS Gym.

MHS @nationalbeta club students volunteering for the @GlenCampbell 5K Ramble. Proceeds go to help further Alzheimer's awareness. #GoRattlers

MHS 43 LC 12. #GoRattlers #TDC #DMGB @swarkansasradio @NNewsLeader

U of A Rich Mountain and Arkansas Tech! MHS Seniors are college bound! @UARichMountain @ArkansasTech
Another MHS student caught doing good things!
Thanks to Abi, Abby, & Reagan for helping put up Fan Club spirit signs!! Good luck boys!! Get a Cougar!!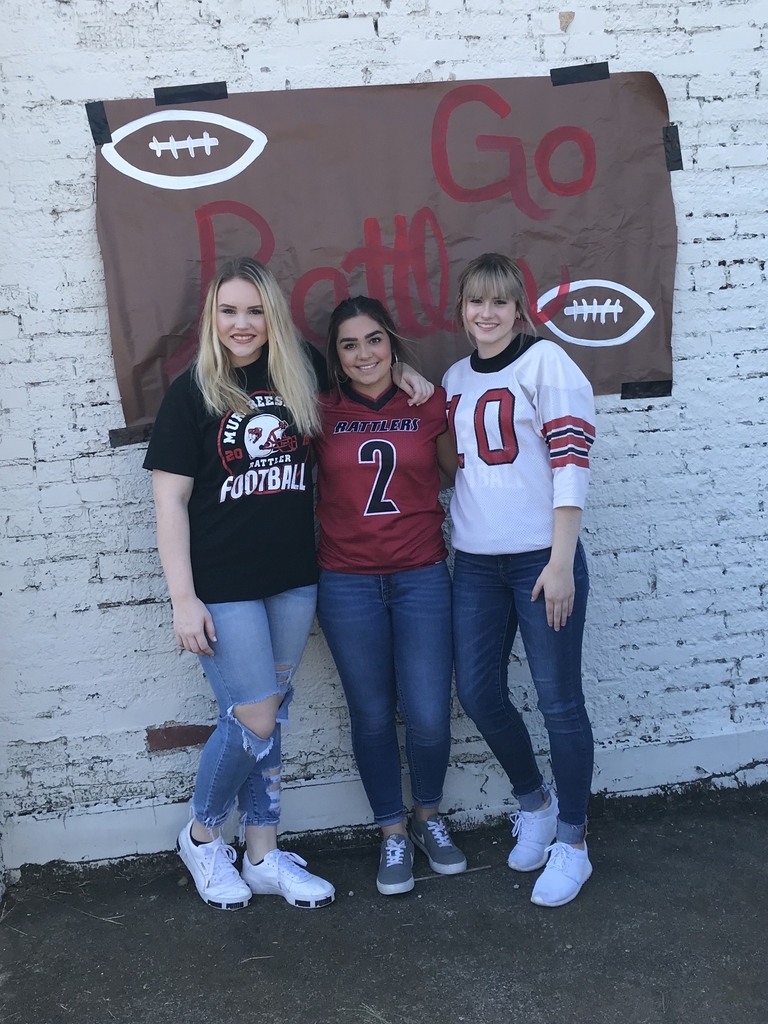 The 5th and 6th graders at the elementary had an incredible time during the 2019 Fishing Derby today. A big thank you to Mrs. Corbitt and the Arkansas Game and Fish for putting this all together!
Student Council is selling Pink Out T-shirts. A portion of the proceeds will go to the American Cancer Society. Pink Out Pep Rally is October 11th. Turn orders into Mrs. Bobo in the high school.
He is racking up the positive write-ups! MHS loves to see our kids doing well!
Students at MHS will have the opportunity to receive free tutoring! Students may work on skills they need to improve or homework assignments. Sessions will be on Mondays (BOBO) 3:20-4:20 PM and Wednesdays (M.JONES) 3:20-4:20 PM.
There will be a financial aid night on October 21st from 5-7 in Mrs. Maroon's room. Financial aid specialists from CCCUA will be assisting parents/students with the FAFSA and the Academic Challenge Scholarship Application. Space is limited, so sign up in Mrs. Stone's office.
First Fellowship of Christian Athletes meeting. Open to grades 7-12th